---
---
---
---
Replacing Accessory Belt (Zetec)
Accessory belts wear out, but they're inexpensive and easy to replace.

Time Required:
15-30 minutes
Tools Needed:

Jack
jackstands
15mm wrench
socket set

Procedure:
Open the hood.
Raise and support the front of the vehicle
Under the car, use a socket set to remove the belt splash guard from the passenger side.
Find the belt tensioner. It's a small pulley (8) below the alternator (1) on a spring loaded pivot.
With the palm of your hand, push firmly upward on the tensioner pulley. If that does not work, get on the 15mm nut in the center of the pulley with a wrench for leverage. Acting like you're "tightening" this nut will provide the correct direction of movement to release belt tension.
The belt will loosen. While still pushing on the tensioner pulley, unloop the belt from the crank pulley (6) and/or A/C pulley (5). They're the two lower-most pullies.
Remove pressure from tensioner pulley
From above the engine or below, remove the belt.
Re-route new belt as shown in diagram below. Leave only the lower 2 pullies (A/C and crank) out of the loop.
Press the tensioner upwards again
While holding the tensioner, re-loop the new belt over the A/C and Crank pullies.
Remove pressure from tensioner pulley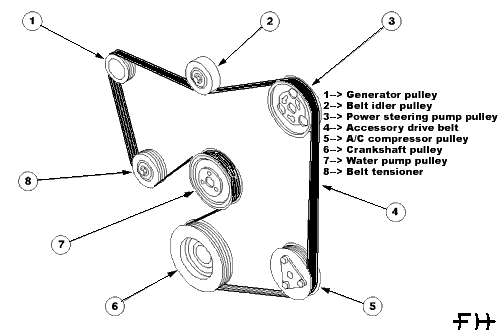 comments powered by